On 16 April, China Re Group signed a strategic cooperation agreement with China Everbright Group in Beijing. Yuan Linjiang, Chairman of China Re Group, and Li Xiaopeng, Chairman of China Everbright Group attended and witnessed the signing ceremony. He Chunlei, President of China Re Group, and Fu Wanjun, Deputy General Manager of China Everbright Group, signed the agreement on behalf of both parties.
  The two parties had a warm and friendly talk prior to the signing ceremony. Mr. Yuan Linjiang gave an introduction to the development history of China Re Group, saying that China Re is the only local reinsurance group in China. Adhering to "China Re Surnamed Reinsurance", the Group has achieved fruitful results in the "13th Five-Year" strategy, a solid position in the main channel of reinsurance, a high degree of internationalization, and a stable development of businesses. The onsite signing with China Everbright Group was China Re's "first signing" this year. The two parties may strengthen cooperation in investment and financing, pro-poor cultural tourism, finance + data + technology and other fields on the basis of consolidating existing bancassurance business and equity cooperation, etc. Mr. Yuan also highlighted the achievements of China Re in actively supporting and serving the building of the national Belt and Road Initiative. After four years of efforts, China Re promoted the establishment of the China Belt and Road Reinsurance Pool in July 2020 and served as its chairman and administrator. The acquisition of the UK's Chaucer has all the more strengthened China Re's technical advantages and pricing influence in the specialty field. China Re hopes to give full play to its overseas service network and professional advantages in providing specialty protection services for China Everbright Group's overseas assets security and overseas investment projects.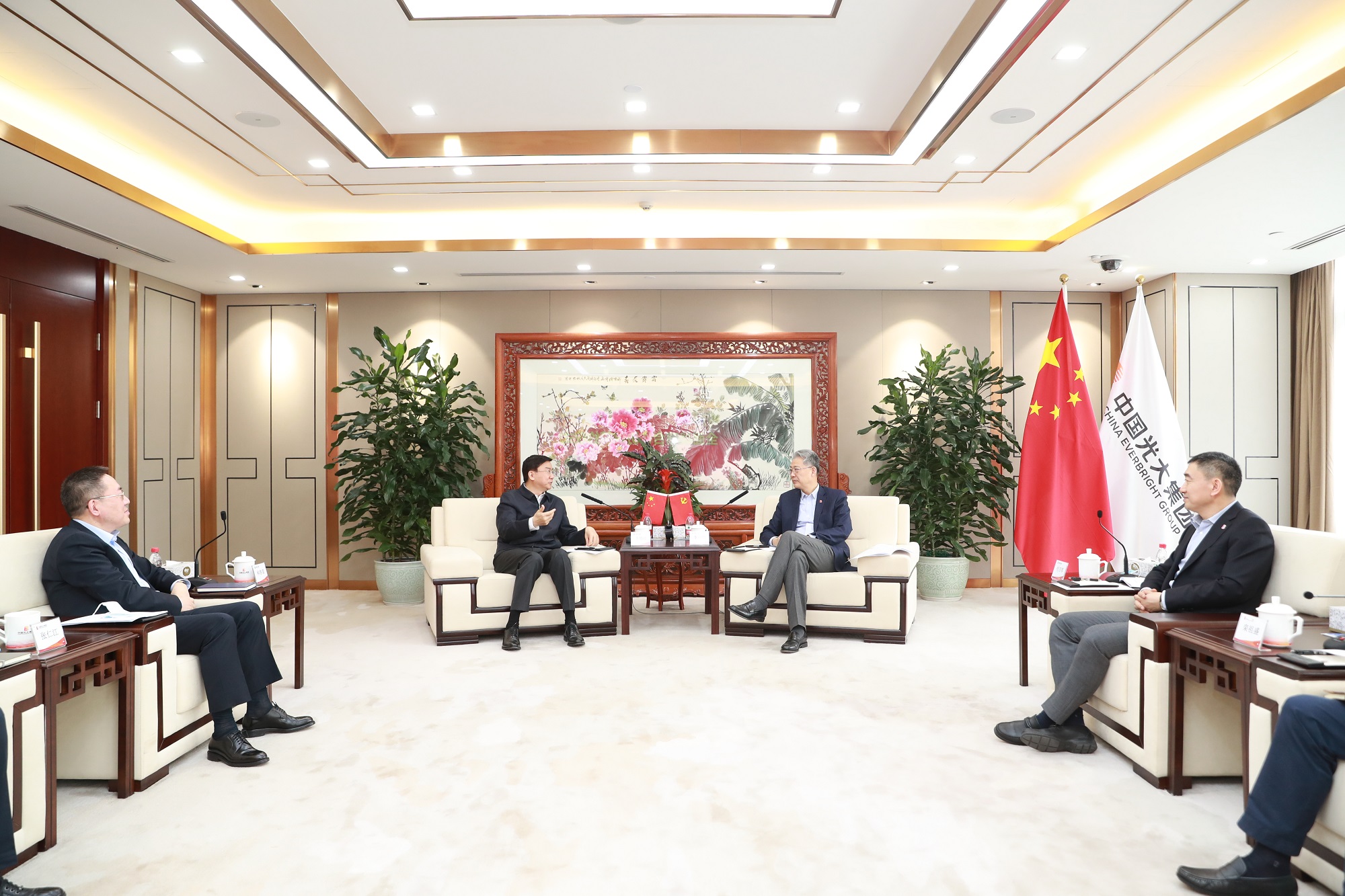 Mr. Li Xiaopeng said that China Re Group is a shareholder of China Everbright Bank, and that the cooperation between China Everbright and China Re is not only at the business level, but also in terms of equity management, corporate governance, reinsurance and financial holding. China Everbright Group is willing to take this signing of the agreement as an opportunity to integrate its own advantages in the six major strategic units of big wealth, big investment, big investment banking, big environmental protection, big tourism, and big health, deeply exploring the entry points for cooperation, and achieving coordinated development with China Re, thus jointly creating good social and economic benefits.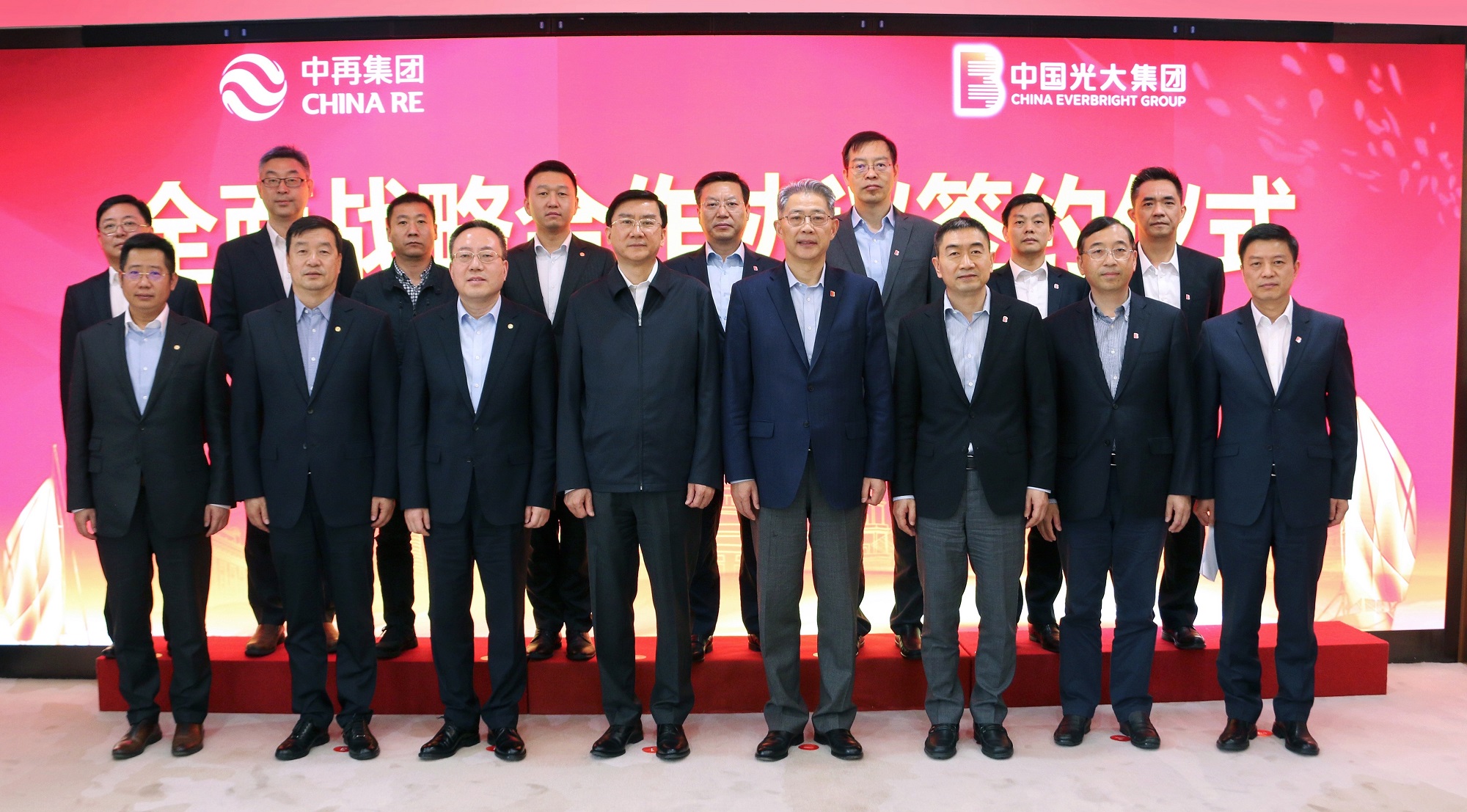 During the talk, the two parties fully exchanged their views on key projects and reached preliminary cooperation intentions, which has facilitated the promotion of a pragmatic approach to implementing strategic cooperation. Both parties agreed that the time is ripe to reach a comprehensive strategic cooperation based on the good foundation of cooperation in the early stage and a large amount of communications and alignments. Going forward, the two parties shall, following the principle of achieving mutually beneficial common development, actively carry out business innovation and cooperation leveraging their leading positions in their respective industries and giving play to their respective resources and channel advantages. In terms of bancassurance cooperation, on the basis of conventional insurance business, cooperation in forward-looking industries such as catastrophe risk management shall be strengthened. The two parties may also cooperate in areas such as settlement, credit, custody, financing, and inclusive finance. In terms of asset management cooperation, China Everbright Bank's financial management subsidiaries, Sun Life Everbright Asset Management, private equity funds and other investment platforms may strengthen cooperation with China Re Assets to jointly explore cooperation in businesses including wealth management, trust, and equity investment. In terms of industrial cooperation, the two parties may cooperate out of business needs as derived from the fields of environmental protection, elderly care, smart cities, pro-poor tourism planning and other areas. In the area of scientific and technological cooperation, both parties may strengthen applied research in terms of platform resources, data analysis, technology sharing, precision marketing and other aspects to form complementary advantages and promote common development. In terms of personal service among employees, the two parties may strengthen cooperation on a package of integrated financial services such as credit card, wealth management, pension, and tourism.