On 30 March, China Re Group held the 2020 Annual Results Press Conference. He Chunlei, Vice Chairman and President of China Re Group, led the management team to give a detailed briefing on the Group's overall performance and strategic implementation results in 2020. The presentation was held in the form of conference call & live video, covering domestic and overseas investors, analysts and the media, which has further enhanced the capital market's attention and recognition to the company.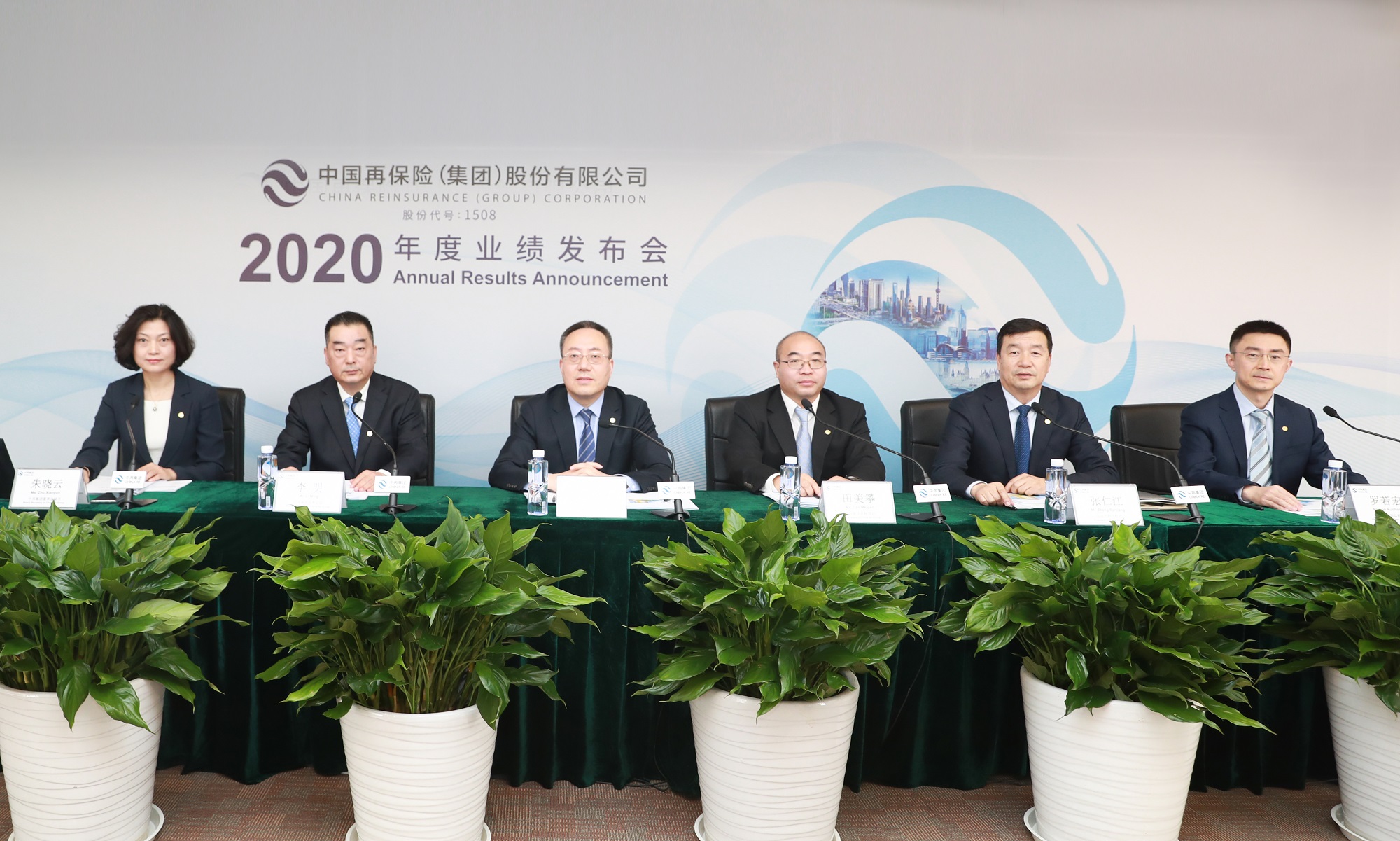 With the global spread of the COVID-19, China Re Group, as a leading domestic reinsurer, adheres to high-quality development orientation in coordinating epidemic prevention and control as well as operation and management. As a result, premiums grew steadily, business structure continued to optimize, investments substantially outperformed the market, profitability was stable under the COVID-19, and risk management was continuously improved.
  Steady growth in premiums. In 2020, the consolidated gross written premiums of the Group increased by 11.5% to RMB161,574 million, marking its solid position as the main reinsurance channel. Of which, gross written premiums of P&C reinsurance increased by 13.8% year-on-year to RMB48,573 million; gross written premiums of L&H reinsurance increased by 20.6% year-on-year to RMB66,957 million; gross written premiums of Primary P&C insurance reached RMB48,167 million.
  Constant optimization in business structure. Major businesses showed robust premium growth rates, business structure was constantly optimized. The Group achieved a year-on-year premiums increase of 38.5% in the domestic P&C facultative reinsurance, and reinsurance premium income of its domestic P&C reinsurance emerging lines increased by 29.0%. Overseas P&C reinsurance premiums up 6.9% year-on-year, protection-type reinsurance premiums of domestic L&H reinsurance business scored 21.3% year-on-year increase.
  Outperformance in investment result. The Group's total investment income in 2020 was RMB17,122 million, representing a year-on-year increase of 31.7%. The total investment yield reached 6.01%, up 0.71 percentage points (ppts) year on year; making the Group's equity investments on secondary shares outperform the market.
  Solid growth amid COVID-19. In 2020, the Group showed strong resilience under the epidemic and recorded a net profit attributable to the parent company of RMB5,711 million, representing a year-on-year decrease of 5.6%; excluding COVID-19 impact, pre-tax profit of the Group amounted to RMB8,636 million with a year-on-year growth of 7.0%.
  Constant improvement in risk management. In 2020, the comprehensive solvency adequacy ratios for all insurance entities of the Group remained above 200%. The Group maintained international ratings of "A(Excellent)" by A.M Best and "A" by S&P Global. Besides, the Group further took measures in risk management includes strengthening risk investigation and mitigation, launching China Re Catastrophe Risk Management System (CREST), establishing a negative list system and strengthening penetrative management of key risks.
  In 2020, China Re focused on platform-building, technology advancement and globalization as three key pillars, while actively implementing major strategies.
  The first pillar is platform-building. The Group actively served the BRI construction, promoted the establishment of the China Belt and Road Reinsurance Pool and served as chairman and managing entity, a total of 32 BRI memorandums of cooperation had been signed, covering 136 countries and regions, providing risk protection of approximately RMB350 billion for more than 600 projects. The Group jointly launched the China Earthquake Catastrophe Model 3.0 with the China Earthquake Administration, and signed usage agreements with 17 insurers. Meanwhile, the Group developed and completed the China Typhoon Catastrophe Model 2.0, and put in efforts in the pilot catastrophe projects in 16 provinces, cities and regions nationwide, serving as chief reinsurer for over 80% of the projects. The Group continued to deepen the construction of IDI platforms in Beijing, Shanghai and other places, such IDI platforms have cumulatively achieved premiums of over RMB4 billion and a total coverage of over 100 million square meters; in 2020, the IDI reinsurance premiums were RMB401 million, representing a year-on-year increase of 12.2%. In actively meeting health protection needs, China Re Life led and participated in the revision of the Critical Illness Morbidity Table. The Group strategically invested in MediTrust Health, an innovative medical payment company. The Group built a new model of "products + special drugs" for the protection of people's livelihood, and participated in the development of the "Hui Min Bao (Insurance Benefiting the People)" product in more than 20 cities and regions. The Group promoted long-term medical insurance innovations and took the lead in cooperating on the development of life-long medical products, outputting new critical illnesses definitions and interpretations and disease recommendations to the industry. Catering to the demand for critical illness insurance, China Continent Insurance provided risk protection of RMB23.9 trillion for 22 million people.
  The second pillar is technology advancement. China Re continued to upgrade its internal infrastructure construction, and promoted the establishment of business centers, data centers, and data lakes. China Re P&C runs 90% of its business and centralizing 80% of its data online. China Re Life's initiated policy data platform and was the first to realize online-based actuarial estimates. China Continent Insurance gave play to data application in customer analysis, claims fraud and other fields, and reduced annual claims losses of approximately RMB500 million. At the same time, the Group created an open external platform through technological innovation to empower the development of the insurance industry. China Re P&C and China Continent Insurance established a billing solution based on a blockchain platform; commercialized outputs to primary insurers were realized on the "Re·View" platform. Health management services were provided to seven insurers through the "Re·HealthCare" platform. The first domestic online-based nuclear power plant data management platform was built. Just in the first year of launch, the "China Continent Super App" reached 2.2 million customers, and the renewal rate for family-used auto insurance reached 61.4%. In 2020, China Re Digital 1.0 was successfully implemented, the company will officially release China Re Digital 2.0 in 2021 to propel its digitalization.
  The third pillar is globalization. We continued to improve the top-level design, and set up an overseas development and management committee to improve the review and decision-making mechanisms of overseas institutions for development strategy, business planning and other major matters. Eyeing on global expansion, China Re Hong Kong made a profit in the first year of business, and achieved a good start. China Re P&C established its Malaysia Branch and Chaucer Insurance Company Bermuda Branch. China Re's Singapore branch obtained a L&H reinsurance license. In optimizing the management of Chaucer, the Group paid attention to strategy, capital and other important areas of management and control, with China Re P&C responsible for daily operation and management matters, successfully achieving the goal for "Three Stabilities" in terms of business, operation and team during the two-year transition period. China Re continued to synergize the domestic and foreign businesses, and optimized the business portfolio of its Beijing platform and Singapore branch to improve capital efficiency. Meanwhile, the company leveraged Chaucer's market, talent and technical advantages, introducing internationally-mature and comprehensive risk solutions such as cyber security insurance and clean energy insurance, and upgraded political violence insurance and terrorism insurance products.
  Looking ahead into 2021, in the new development pattern, the insurance industry is still in a period of strategic opportunities and is transforming towards a direction with diversified supply, orderly competition and connotative growth. China Re will adhere to the drivers of "platform operation, technology advancement and globalization", enhance the development of its principal business in the strategy of serving the country, strengthen its innovation and development competitiveness in the upgrading of the industry structure, reinforce the driving force of the business transformation in the changing of regulatory policies, build support for technological services in the digital transformation, strengthen the overall management and control of the Group in risk prevention and control, and firmly insist on "profitable development, market benchmarks, risk compliance and digital transformation", and the business strategy of "stabilizing growth, optimizing structure, controlling risk and improving profitability" to fully promote high-quality development and generate stable returns for China Re's shareholders.