China Re and China Earthquake Administration successfully held the China Re Catastrophe Risk and Insurance Summit 2020 in Beijing on November 5, during which China Re and China Earthquake Administration signed a strategic cooperation agreement and jointly released China Earthquake Catastrophe Model v3.0, representing that the first earthquake catastrophe model with independent intellectual property rights in China is mature and has been applied in the industry.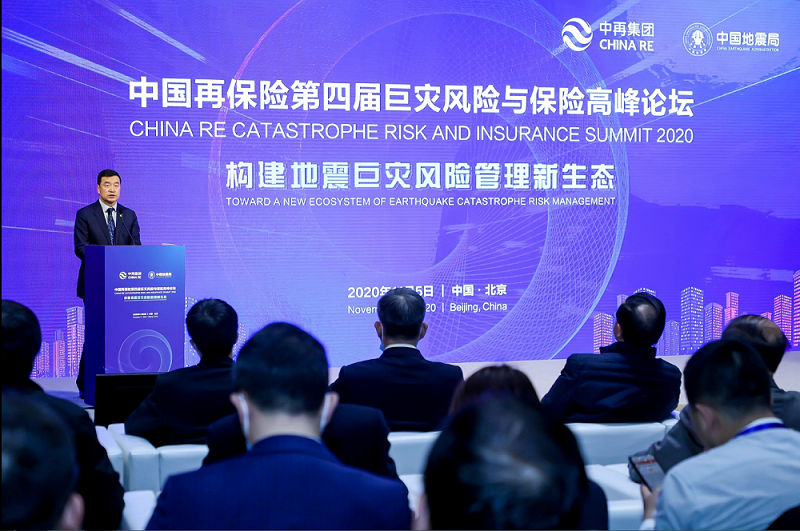 This forum was held both "offline + online" and focused on the frontier knowledge on earthquake risk management and exploration of insurance practice in China under the theme of "Toward A New Ecosystem of Earthquake Catastrophe Risk Management". He Chunlei (president of China Re Group), Wang Kun (deputy director of China Earthquake Administration) and Wang Yuxiang (vice president of Insurance Association of China) attended the meeting and made relevant speeches. Attendees of the meeting included Yao Fei, the vice president of Insurance Society of China, and a total of over 60 expert representatives from China Banking and Insurance Regulatory Commission, China Earthquake Administration, scientific research institutions in the field of earthquake, National Disaster Reduction Center of China of the Ministry of Emergency Management, China Banking and Insurance Information Technology Management Co., Ltd., China Association of Actuaries, the insurance industry and other parties attended the onsite meeting, while over 200 persons attended the meeting online.
  "China Earthquake Catastrophe Model v3.0" released has upgraded iteratively based on version 2.0, which is an important achievement made by the seismology field and insurance industry through their concerted innovation. "China Earthquake Catastrophe Model v3.0" adds event sets for key areas of earthquake surveillance and protection for ten years, earthquake casualty model and rapid post-earthquake loss assessment system, and enhances user experience according to feedbacks on the industry application experience, with a greater improvement in scientificity, accuracy and practicability.