On 28 March, China Re Group (stock code: 01508.HK) announced its 2018 annual results; the management team led by Mr. He Chunlei, the Vice Chairman and President of China Re Group, held a press conference in Hong Kong on 29 March to share the annual results. As a leading reinsurer in the domestic market, China Re Group facilitated the implementation of its "One-Three-Five" Strategy, which contributed to the Company's rapid growth in premium income, continuous optimization of business structure, steady improvement of market position and significant progress in reform and development.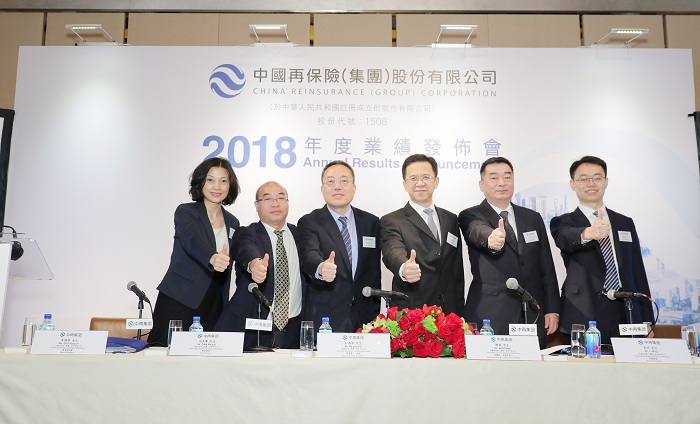 China Re Group's 2018 business operation can be boiled down to four major highlights. Firstly, the gross written premiums recorded a new high of RMB122,257 million, representing an increase of 16.1%, which was significantly higher than the industry growth rate. Secondly, its market position achieved steady improvement with P&C reinsurance segment recording a year-on-year increase of 14.7% and life and health reinsurance segment growing rapidly by 18.4%, which secured the top place in the industry in terms of market share. With a growth rate of 2.7 ppts higher than the industry average in 2018, its primary P&C insurance business outperformed the industry for four consecutive years with steady increase in market shares and industry ranking climbing to No.5. Thirdly, the business structure continued to optimize, with a year-on-year growth of 26.5% for domestic non-motor insurance business of P&C reinsurance; a year-on-year growth of 68.6% for domestic facultative reinsurance business; a year-on-year growth of 23.0% for overseas P&C reinsurance business; a year-on-year growth of 74.4% for domestic protection-type business of life and health reinsurance; and a year-on-year growth of 54.3% for non-motor primary P&C insurance. Fourthly, we continued to deliver solid performance in risk management. The Group Company, China Re P&C and China Re Life scored higher than 80 marks in the SARMRA assessment, better than the industry average. We maintained a Financial Strength Rating of "A (Excellent)" by A.M. Best and was rated "A" by S&P Global Ratings. The Group achieved an aggregated solvency adequacy ratio of 184%, and the aggregated solvency adequacy ratios of all insurance subsidiaries maintained above 200%. The Company was recognized as a "High Quality Company" for corporate governance, the highest grading, by China's regulatory authority for three consecutive years.
  In 2018, China Re Group implemented the "One-Three-Five" Strategy with focuses on international expansion, catastrophe management, support of "Belt and Road Initiative", "Digital China Re" and operation innovation, and actively implemented a series of major strategies: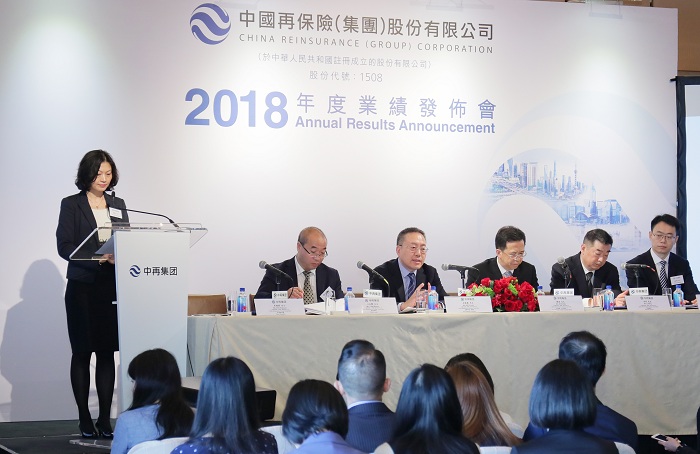 Firstly, major breakthrough was achieved in the implementation of internationalization strategy. China Re Group successfully acquired 100% equity interest in Chaucer at a consideration of US$865 million, which is the largest cross-border business acquisition by state-owned insurer in China. With nearly one hundred years of history, Chaucer is a global insurer and reinsurer specialising in specialty insurance with top-tier operation capacity and profitability in the Lloyd's market. The acquisition is important for China Re Group to acquire new business growth driver, diversify risks globally, strengthen underwriting capacity in specialty insurance, enhance the competitiveness of its main reinsurance business, carry out overseas strategic expansion and enhance the global influence of its brand.
  Secondly, the "Catastrophe Ecosystem" continued to upgrade. China Re Group established the first technology company with focus on catastrophe risk management in China, launched its first earthquake catastrophe model V1.0 with proprietary intellectual property, participated in the China's pilot programs of catastrophe insurance in different areas, and acted as a sole or lead reinsurer in over 90% of the projects.
  Thirdly, we actively supported the "Belt and Road Initiative". China Re Group entered into memorandums of cooperation with 29 leading insurers in "Belt and Road" countries to provide localized services to China's overseas interests in 122 countries and regions, with a risk coverage of RMB163.3 billion.
  Fourthly, we facilitated the implementation of "Digital China Re". China Re Group actively facilitated new technology application and platform establishment, released the first white paper for blockchain reinsurance in China, launched the first insurance product that covers the whole industrial chain based on blockchain technology, developed the first snow storm remote sensing index insurance product in China and established the China Re Life data cleansing system. It also established the catastrophe platform, the construction quality inherent defects insurance (IDI) platform, the reinsurance blockchain (RIC) trading platform and the CNIP blockchain business management platform. China Continent Insurance successfully launched the "Somersault Cloud" (筋斗雲), the first core business system under the "Private Cloud + Microservices" structure in the world.
  Fifthly, significant progresses were made in operation innovation. China Re P&C began to thrive in emerging sectors with total premium income exceeding RMB800 million in construction quality inherent defects insurance (IDI), short-term health insurance, catastrophe insurance and insurance business for the "Belt and Road Initiative", recording a year-on-year increase of 60%. China Re Life continued to implement the "Data +" and "Product +" strategies and successfully developed the Internet mid-end medical care insurance product which contributed to a year-on-year growth of over five times in premium income of mid-end medical care insurance. It also innovated in yearly renewable term reinsurance business (YRT) model which contributed premium income of over RMB1.0 billion. China Continent Insurance carried out comprehensive cooperation with Internet giants including Baidu, Alibaba, Tencent and JD (BATJ) with premium income from online channel exceeding RMB1.7 billion, representing a year-on-year increase of 172%.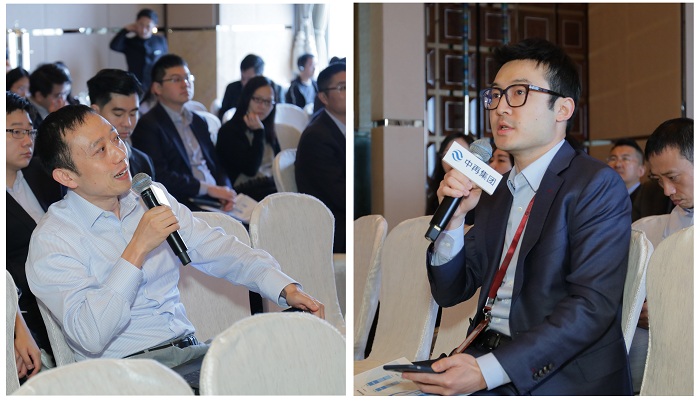 In 2019, China's economy is shifting to high quality development at a faster pace and the insurance industry is experiencing comprehensive and profound changes, which are reshaping the ecosystem and growth drivers of the industry and lead to the intensifying market competition. Facing the opportunities and challenges in its development, China Re Group will focus on three major strategies, namely, platform operation, technology advancement and globalization, adhere to the operating guidelines of "stabilizing growth, adjusting structure and increasing benefit", facilitate the implementation of the "One-Three-Five" Strategy and the transformation to high quality development, thereby achieving stable growth in its overall value and creating greater value for customers and shareholders.