On the afternoon of 25 March, China Re Group and Industrial and Commercial Bank of China ("ICBC") entered into a strategic cooperation agreement in Beijing. He Chunlei, Vice Chairman and President of China Re Group, and Gu Shu, President of ICBC, attended and witnessed the signing ceremony. Zhao Wei, Vice President of China Re Group, and Tan Jiong, Vice President of ICBC, signed the agreement on behalf of the two parties.
  Before the signing ceremony, representatives of the two parties had a friendly talk. He Chunlei, President of China Re Group, described the development history, operating results and strategic layout of China Re Group, provided information on China Re Group's international development, implementation of the "Digital China Re" strategy and the development of catastrophe risk management platform. He then reviewed the successful cases of cooperation between China Re Group and ICBC in different sectors, and expressed gratitude to ICBC for its financing support to the acquisition of Chaucer Insurance Group by China Re Group.
  Gu Shu, President of ICBC, provided information on the overall operating results of ICBC, pointed out the business highlights of continuous enhancement of profitability, continuous improvement of asset quality, great expansion of customer base and significant acceleration in technological development, and express gratitude to China Re Group for its long-term trust in ICBC and supportive cooperation in different business sectors.
  During the talk, the two parties also carried out in-depth discussion on the implementation of strategic cooperation. Based on the principles of mutual benefit and common development, the two parties will leverage on the leading positions in their respective industries, utilize their respective resources and channel advantages, strive to support the national development strategies such as the "Belt and Road Initiative", the construction of Xiong'an New Area, the construction of Guangdong-Hong Kong-Macau Greater Bay Area and the development of inclusive finance with concerted efforts, and continue to expand the scope of business cooperation, thereby facilitating the development of financial and insurance market and providing greater support to national strategies and the development of real economy.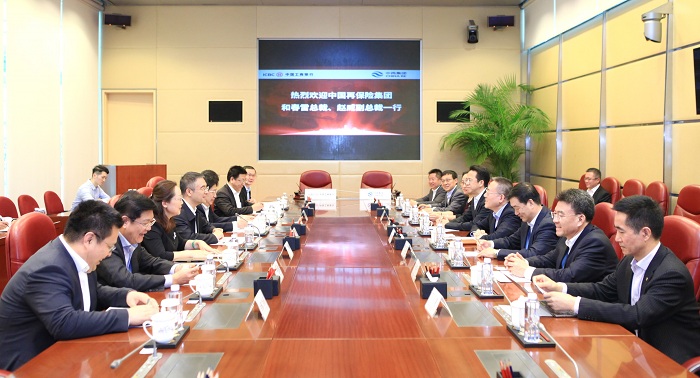 Zhang Renjiang (General Manager of China Re P&C), Yu Chunling (General Manager of China Re AMC), Yu Limin (Chairman of Huatai Insurance Agency), Ling Fei (Deputy General Manager of China Re Life), Jia Derong (Deputy General Manager of China Continent Insurance), Li Wei (General Manager of Strategic Customer Department of China Re Group and Deputy General Manager of China Re AMC), Xiong Yan (General Manager of Corporate Finance Business Department of ICBC), Qiao Jinsheng (General Manager of the Department of Strategic Management and Investor Relations), Li Yong (General Manager of Asset Custody Department), Liu Jianchang (General Manager of Special Financing Department), Li Yong (Deputy General Manager of Financial Market Department) and Liu Jingsong (Deputy General Manager of Asset Management Department) participated in the talk and attended the signing ceremony.